Pittstop R12 Oil Checker 2Pack #5025A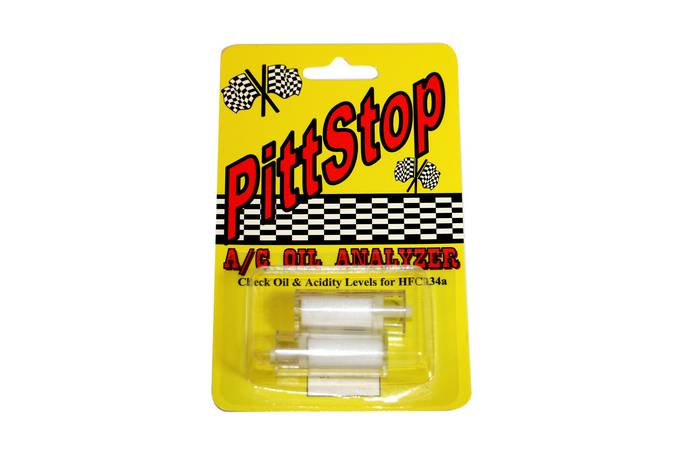 Finally, a product offering customers a cost effective and easy way to detect air conditionng oil levels and harmful acids in the oil a/c system without changing out the A/C system and draining of all oil from the system.

Many A/C compressor failures are caused by low oil levels and dirty contaminated oil in the A/C system. The use of this low-cost oil checker can save you the cost of a new compressor plus down time caused by the replacement of a compressor.

Automotive and commercial installers can use existing service fittings to utilize the Pittstop Oil Checker.

Oil Checkers are available in 2 and 10 packs.
These may be used on R12 or R22 systems.
If you have converted or are going to convert your system to 134a, you need to purchase the 134a oil checkers.

Also available for R134a!
Directions
Operate the A/C system for 15-20 minutes.

Put the oil checker between your thumb, index finger and middle finger and with the A/C compressor running push down on the low pressure (suction line)(this is normally the big A/C line) 2 or 3 times.

Set oil checker upright for 3-5 minutes then pick up the oil checker and check the oil level.

If the tube is 1/2 full or more, DO NOT add oil to the system. If it is below 1/2 full, add oil to your system.

The oil checker is a 1 time use item.

Note: The compressor clutch must be engaged or running to get a correct reading.
Customers Also Bought:
Remember 6 oz of Enviro-Safe Industrial equals 16 oz of R134a!! Use less refrigerant, get lower high side pressure, colder temps and use less horsepower to get the colder air!

#5150 R12/22 Hose Seals & R12/22 Schraders For more information on this product, click the product title above.

For more information on this product, click the product title above.