Enviro-Safe Oil Charge for R1234YF Systems #2021A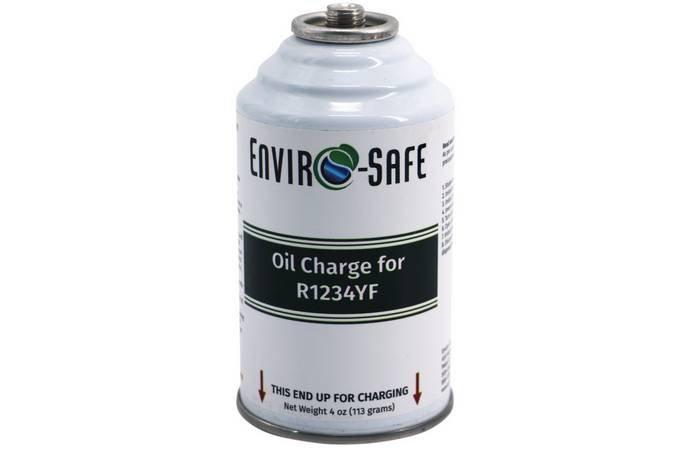 Aerosol
A blend of selected oils that have been formulated to provide the extra oil needed when an air conditioning unit loses the oil charge due to leaks or malfunctions in the system.
For use in 1234YF systems
Use only with mineral, ester or Pag oils.
Check to see if you need more oil in your system - oil checkers available on our website. They are part #: 5025a and 5030a.
This can has a 134a top on it

DO NOT use in ammonia systems

DO NOT use in CO2 systems

Cannot be sent to Alaska or Hawaii or exported to foreign countries except in pallet quantities
Gas propelled
Installs the same way as refrigerant
Cannot be added to a fully charged system
Read and understand all warnings and directions before use.
1. Shake can well.
2. Install can tap valve amd charging hose.
3. Install charging hose on low pressure side ONLY.
4. Invert can.
5. Turn on compressor.
6. Open charging valve on low pressure side.
7. Install desired amount of oil into system.
8. Discard empty can according to all rules and regulations for disposal in your area.
Customers Also Bought:

For more information on this product please click the link above.

Easy to use for detection of A/C oil levels and harmful acids in the A/C system.

R1234YF Gauge Set with 60" hoses includes vacuum pump adapter