Enviro-Safe Proseal for Automotive R12 use #9800
Stop Leak & Sealants, R12: Stop Leak & Sealants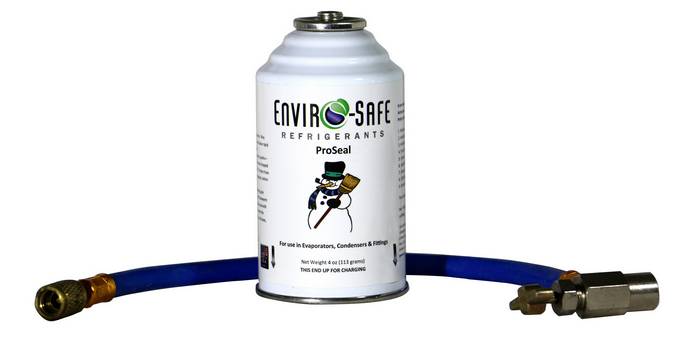 SDS

Proseal SDS (331 KB, PDF)

Kit includes:

​1 can Enviro-Safe Proseal

1 each R12 brass hose #3345

Enviro-Safe Proseal repairs minor leaks in mobile a/c systems.

It seals leaks in evaporators, condensers, fittings and metal lines.

Before replacing expensive parts and labor, try Enviro-Safe Proseal!

Works on most mobile applications.

Applications: automotive, campers, semi tractor trailers, combines, thrashers, agriculture applications.

For best results, use Enviro-Safe Prodry BEFORE using the Enviro-Safe Proseal to remove any moisture in your system. Moisture is corrosive and no one wants that in their system!

DO NOT USE IN AMMONIA SYSTEMS!

Do NOT use this item in a R410a system.
Customers Also Bought:

#3525 Can be used in leak detection of dye. LED bulb life is up to 100,000 hours. Batteries last 7x longer. For more information on this product, click the product title above.

Perfect for seeing leaks!