Magnum D.I. Inject Gun and Proseal XL4 1.5 ton Direct Inject for Auto #9880
Refrigerant Support Fluids, Auto Inject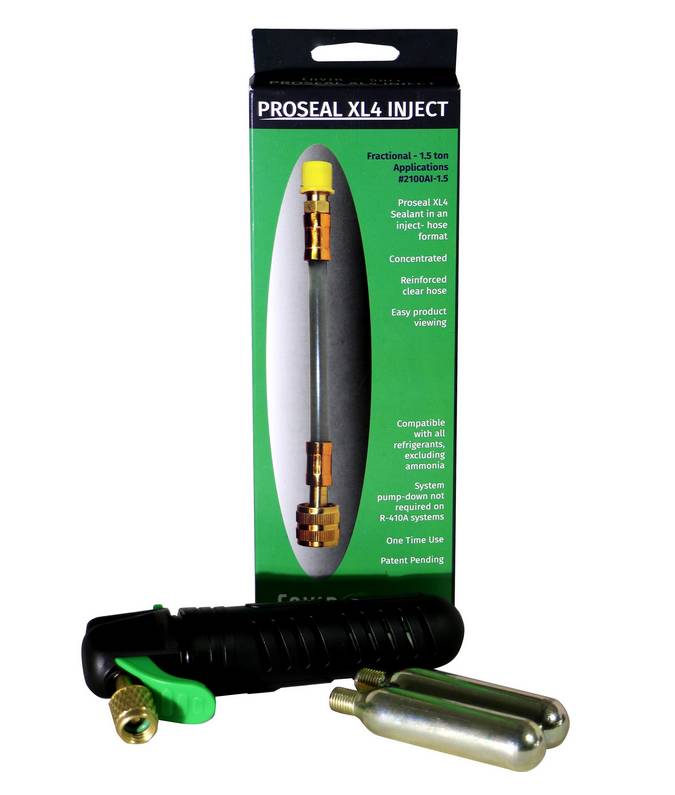 SDS

Proseal XL4 (331 KB, PDF)

Check out this new, innovative product that allows you to install Direct Inject in minutes! Enviro-Safe Direct Inject products connect effortlessly to our Magnum D.I. inject gun. This product is patent pending.
Magnum D.I. Inject allows you to install any Enviro-Safe Direct Inject product into your automobile with the same tool in a matter of seconds. This tool allows you to install the Direct Inject into all systems, even if the system is empty or full of product.
Kit #9880 includes:
1 Magnum D.I. Inject Gun
1 Proseal XL4 Fractional-1.5 ton Inject hose
2 Disposable CO2 cartridges
One of our most requested products, Enviro-Safe® ProSeal Xl4 Inject is a small, concentrated, easy inject refrigerant leak sealant. This product is currently available in two sizes: Fractional-1.5 ton system and 1.5- 5 ton system. ProSeal XL4 Inject is compatible with all refrigerants except ammonia. This product performs best in heat pumps, split and mini- split units, packaged units, microchannel coils, coolers, and commercial units.
Enviro-Safe™ has been producing and packaging sealants for over 17 years. Our Sealant Injector hose was designed and tested during 2013/2014 and has been produced and marketed under private label since the fall of 2014.
Unlike most other products on the market, ProSeal XL4 travels with the gas, which makes it faster, and more effec- tive at finding leaks. ProSeal XL4 Inject will seal most leaks when used according to the manufacturer's instructions and will seal most small holes located in the A/C condenser, evaporator, fittings, and metal line sets. Sealing leaks will save energy and lower refrigerant emissions.

*DO NOT use in ammonia systems.
Eliminate the tedius, and time consuming process of "pumping down the unit".
Simply Connect and Inject.
Enviro-Safe's ProSeal XL4 Inject is:
Concentrated

Compatible with all refrigerant, except ammonia

Compatible with all oils

No need to pump down R410, or other units

Large equipment, bulky tools, injection hoses are a thing of the past
For Use In:
heat pumps

split systems & mini split units

packaged units

microchannel coils
Designed to repair minor leaks in the evaporator, condenser, connecting fittings and metal lines. ProSeal was designed​ to save the consumer the burden of costly repairs in the form of replacement parts and expensive service labor. A mobile A/C refrigeration sealer for metal components, for mobile A/C refrigeration systems.
Do NOT use in ammonia systems!

To be used in conjunction with Enviro-Safe ProDry
Watch our video to see how easy Magnum D.I. is to use!
1. Unscrew cap and insert cartridge with the narrow end up.
2. Without depressing trigger, screw cartridge slowly into the cap until cartridge punctured pin. You will hear a slight air release sound.
3. Quickly and firmly screw the unit together. NOTE: Not completely screwing the unit together may result in escaping gas.
4. Depress trigger to discharge the CO2 cartridge.
DO NOT activate trigger until both ends of Direct Inject hose are connected.
CO2 cylinders are at 3000 psi and are food grade, dry CO2.