Dye Inject 2050AI
Injects, Leak Finder, Leak Finder, Leak Finder, R12: Leak Finder

SDS

Enviro-Safe Dye Inject (344 KB, PDF)

Other Documentation
Frequently Asked Questions & Directions (361 KB, PDF)
Inject Product Line (1967 KB, PDF)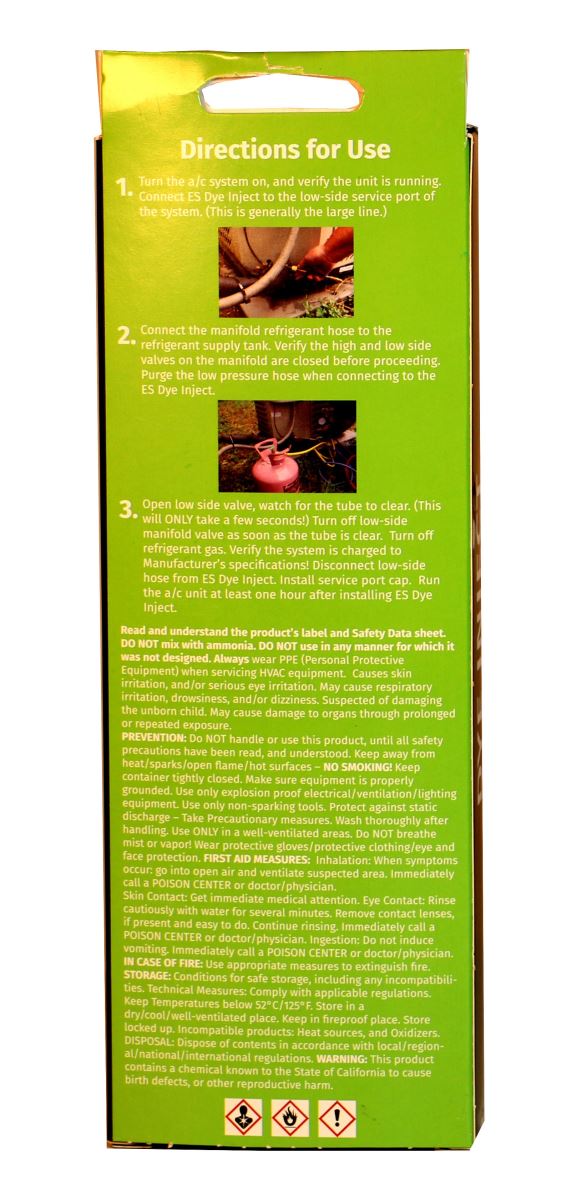 Enviro-Safe Dye Inject is the very first Dye in a direct inject product. Enviro-Safe's very own Dye Inject is now available to purchase in the same DIRECT INJECTsystem as Enviro-Safe ProSeal XL4 Inject.
Features and Benefits:Pro
Dye Inject is the concentrated version of Enviro-Safe Dye VS.

Treats systems up to 5 Tons

Easy to install
Dye is fully compatible with mineral-pag-ester oils and is specifically designed to assist you in locating air conditioning leaks that may occur in your air conditioning system.

A precisely selected color highly concentrated dye (fluorescent yellow) is utilized and allows the dye to be highly visible. In most cases, the dye may be seen with the naked eye. However, the use of a blacklight as well as UV glasses does make it much more visible. (blacklight and UV glasses available for purchase on our website) #3530
This dye is the same color as the dye that auto makers currently use in automobile A/C systems.
Step 1: Turn the a/c system on, and verify the unit is running. Connect Dye Inject to the low-side service port of the system (This is generally the large line).
Step 2: Connect the manifold refrigerant hose to the refrigerant supply tank. Verify the high & low side valves on the manifold are closed before proceeding. Purge the air from the low side.
Step 3: Open low side valve; watch for the tube to clear (This will ONLY take a few seconds!) Turn off low side manifold valve as soon as the tube is clear. Turn off refrigerant gas. Verify the system is charged to manufacturer's specifications.
Disconnect low-side hose from Dye Inject. Install service port cap.

Note: Do Not use – Enviro-Safe Dye Inject in any manner it was not designed! Read and understand the product's label and Safety Data Sheet. The (SDS) for precautionary and first aid information is available under the tab documents.
Customers Also Bought:
EPA Approved for use in new food refrigerators and freezers (stand-alone units only!)
*Haz/Mat fee not included.
For more information on this product, click the product title above.