ProDry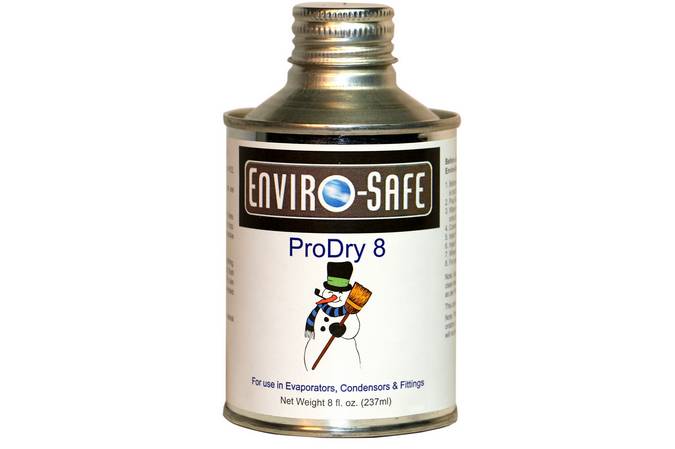 SDS

Enviro-Safe ProDry 4 oz (388 KB, PDF)


Enviro-Safe ProDry VS & Concentrate (447 KB, PDF)

Enviro-Safe ProDry contains a dehydrating agent that converts system moisture into oil. We recommend the use of ProDry before the use of Enviro-Safe ProSeal to ensure all moisture has been removed from the air conditioning system.

ProDry comes in 4 ounce aerosol, 8 ounce concentrate and 1/2 ounce Vacuum Sealed cans.
The 4 ounce aerosol can

connects to regular system with a 134a tap #5000.

ProDry VS is a vacuum sealed can that is perfect for the single use and may be used in most a/c systems, except ammonia.

For Vacuum Seal product--must be used in non-back flow device hose (should be able to blow through each end of hose). We recommend the R12/22 charging hose available on our website under A/C Tools then hoses #3345.

The 8 ounce concentrate is packed in a convenient size container for the professional a/c technician. Install with a universal dye/oil injector tool. Available on ES web page under A/C Tool/Tools. #5055, 5060, 5130,5065.
---
At this time, we do not ship this product to Canada or any overseas country due to extremely large customs fees. Due to the cost of shipping, small quantities of this product cannot be shipped to Alaska, Hawaii, Canada, or any overseas country. However, we will ship this product in large quantities, please contact Enviro-Safe at 1-309-346-1110.
For installation:
Install Pro Dry first (if using Pro Dry)

Run Unit 30 minutes

Install Pro Seal next

Fill system to manufacturer's specs with refrigerant

Run unit with compressor running for a minimum of 45 minutes
Customers Also Bought:
#1035 Works great for any system that requires R134a refrigerant, including dual air systems like vans & suburbans! Can be used in smaller vehicles too for super performance! For more information on this product, click the product title above.
*Haz/Mat fee not included.
The 4 ounce aerosol can contains enough sealant to repair small leaks and connects to regular mobile systems with a 134a tap. (tap #5000) For more information on this product, click the product title above. USE ARROW ABOVE FOR DROP DOWN LIST TO SELECT - CANS/CASES/INJECT ITEMS
Enviro-Safe Air Enhancer is an air conditioning performance booster specially formulated treatment designed to enhance cooling properties of new and old air conditioning and refrigeration systems. For more information on this product, click the product title above.
Related FAQS