Enviro-Safe R134a Replacement w/Dye Stop Leak & Gauge Kit #RSG-4
134a Replacement, Stop Leak & Sealants, R134a: Stop Leak & Sealant, R134a: Kits
SDS

Stopleak SDS (302 KB, PDF)


134 Replacement Refrigerant with Dye SDS (371 KB, PDF)

DO NOT USE IN AMMONIA SYSTEMS!

DO NOT PULL A VACUUM ON THE A/C SYSTEM.

If you plan to pull a vacuum or are charging a larger system or dual air system such as on a van, suburban, or SUV, use Enviro-Safe Industrial R134a Replacement refrigerant.

Enviro-Safe R134a Replacement with Dye can be used in all R134a applications, including pre-1994 automotives that have complied with the US EPA Snap regulation.

Bring your a/c performance back to the original cold air!

This is the original Enviro-Safe Refrigerant that we first introduced over 20 years ago.

This kit includes:

​2 cans of Enviro-Safe R134a Replacement with dye 6 oz cans (equivalent to 2lbs of R134a)

1 can of Enviro-Safe Stop Leak 4 oz can

1 each R134a gauge kit

Operates at lower head pressure

Offers improved cooling properties and performance

Compatible with most refrigerant oils

Non Ozone depleting

Non Global warming

R134a can thread

Use up to 60% Less

Made in America!

Enviro-Safe has been manufacturing hydrocarbon refrigerants for over 22 years.
Flammable to an open flame or spark and proceed with caution if used in systems designed for non-flammable refrigerants.
Customers Also Bought: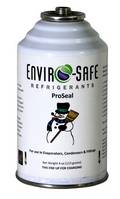 The 4 ounce aerosol can contains enough sealant to repair small leaks and connects to regular mobile systems. NOT FOR USE IN A/C HOME UNITS!
Remember 20lbs of Enviro-Safe Industrial equals 54.6lbs of R134a!! Use less refrigerant, get lower high side pressure, colder temps and use less horsepower to get the colder air!
*Haz/Mat fee not included.
For automotive and other R134a applications. Equivalent to 1lb of R134a per can or 12lbs of R134a per case of 12.