Proseal for 1234YF Can with 1234YF Hose and 134A Can Tap #4830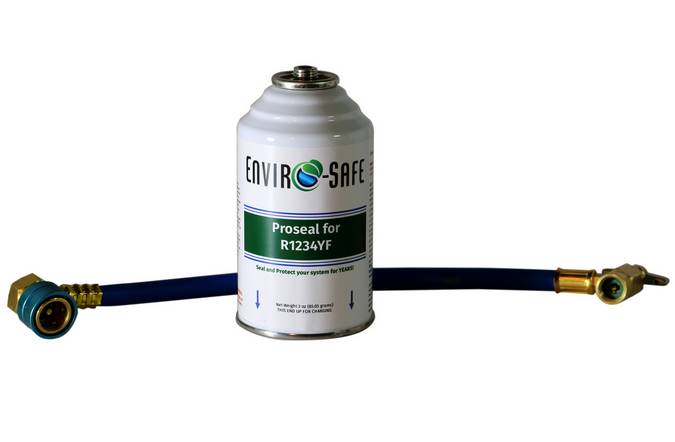 SDS

Proseal for R1234YF SDS (208 KB, PDF)

Each and every year it is common to replace the lost refrigerant that leaks out over the winter months. This procedure is very costly and annoying and adds to the negligible affects to our environment with global warming. Our line of Proseal products offers leak protection that lasts for years! ProSeal is perfect for finding and sealing those pesky leaks in your R1234yf system
Includes 1 can of Enviro-Safe R1234yf Proseal 3 oz and 1 each 134a tap to R1234yf vehicle connection (#3635)

1 can of Enviro-Safe R1234YF ProSeal 3 oz will treat 1 vehicle.

Proseal R1234YF is gas-charged for easy installation and is fully compatible with R1234YF systems.

This product is pressurized.

The can itself has a R134 top on it as shown in the picture so you will need a hose with a R134 top tap and R1234yf vehicle connection.
Customers Also Bought:
For more information please click on the link above. Enviro-Safe Proseal VS 1234YF is specifically designed to seal condensor, evaporator, oíring and schrader valve leaks in R1234YF Systems