Stop Leak 4oz Case of 12 Cans for R12 & R134a Use #2030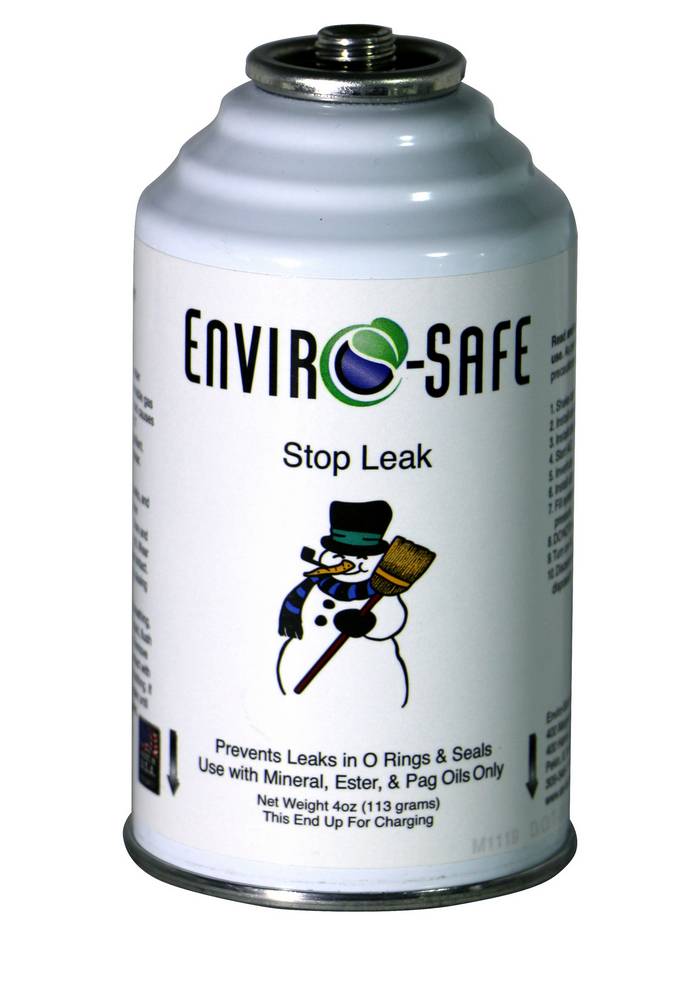 SDS

Stopleak SDS (302 KB, PDF)

*For O Rings & Seals Only
Finally, a way to minimize the costly repairs to your auto air conditioner. Each and every year it is common to replace the lost refrigerant that leaks out over the winter months. This procedure is very costly and annoying and adds to the negligible affects to our environment with global warming.

Many leaks in the automotive air conditioner occur within the o-rings and seal areas. As o-rings and seals age, the materials begin to crack and shrink. Deterioration is the natural tendency of rubber and the heat from the engine exacerbates the deterioration.

Enviro-Safe Stop Leak comes in 3 ounce aerosol, 8 ounce concentrate, and 1/2 ounce vacuum sealed cans.
The 3 ounce aerosol can contains enough Stop Leak to repair o-rings in up to a 3 or 4lb a/c systems.

Stop Leak VS is a vacuum sealed can that is perfect for the single use and may be used in most a/c systems such as R12, R134a.

The 8 ounce concentrate is packed in a convenient size container for the professional a/c technician. Install with a universal dye/oil injector tool. #5055, 5060, or 5130. You can also use the search button at the top of the page to find.
---
For Vacuum Seal product--must be used in non-back flow device hose (should be able to blow through each end of hose). We recommend the R12/22 charging hose available on our website under A/C Tools then hoses. Part #3345. You can also use the search button at the top of the page to find.
Aerosol product--connects to regular system with a 134a tap
---
Due to the cost of shipping, small quanitites of this product cannot be shipped to Alaska, Hawaii, Canada, or any overseas country. However, we will ship this product in large quantities, please contact Enviro-Safe at 1-309-346-1110.
Stop Leak for Auto Directions for Use in MOST Cases
As per use with any refrigerant product, take adequate precautions during use.
Use with Mineral, Ester & Pag Oils Only!
1. Shake can well.
2. Install can tap valve and charging hose.
3. Install charging hose on low pressure side.
4. Invert can.
5. Install all product from can.
6. Fill system to manufacturer specification pressure.
7. Run compressor to circulate.
8. Discard empty can according to all rules and regulations for disposal in your area.
Note: If an air conditioning system charged with Enviro-Safe develops a leak, it is recommended to evacuate any refrigerant before adding any dye charge, oil charge or before installation of any refrigerant.