Enviro-Safe R-290 Refrigerant 50lb Cylinder #8015
*Haz/Mat fee not included.
SDS

Enviro-Safe R290 Cylinder (423 KB, PDF)

Other Documentation
Enviro-Safe no longer markets or sells Enviro-Safe 22a or Enviro-Safe 502a for use in the USA.

Enviro-Safe is marketing an EPA-approved refrigerant (R-290 CAS #74-98-6) for use in new food refrigerators and freezers (stand-alone units only), and in some industrial applications, in accordance with EPA regulations at 40 CFR Part 82.172
The temperature pressure chart represents the temperature of the product when inside the system.

It is sold in 8 ounce cans, 30lb (12lbs of refrigerant) and 50lb (20lbs of refrigerant) cylinders!
---
Here are some guidelines for charging with R-290
Wine chillers 44°F would charge to 69.4 psi
Refrigerators 36°F would charge to 59 psi
Freezers -8°F would charge to 18.1 psi
This product is Flammable. As with any other flammable product, please use with caution.
Please refer to the manufacturer's specifications prior to recharging the refrigeration system for proper pressures.
Follow all directions.
DO Not overfill.
Flammable to an open flame or spark, proceed with caution.
DO NOT smoke or use spark, or flame when using any refrigerant, refrigerant support product, other flammable products, or when servicing refrigeration equipment.
Customers Also Bought: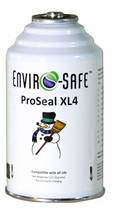 Designed to repair minor leaks in the evaporator, condenser, connecting fittings and metal lines. Do NOT use in Ammonia systems! For more information on this product, click the product title above.