Enviro-Safe R-290 Refrigerant 20lb Cylinder #8015
*Haz/Mat fee not included.
SDS

Enviro-Safe R290 Cylinder (423 KB, PDF)

Other Documentation
EPA approved R290 for use as per EPA regulations 40 CFR Part 82.17

Designed for use in refrigeration units calling for R290

May be used in domestic refrigerators, freezers, dehumidfiers and window ac units

Also used in industrial applications: ice machines, grocery stores freezers, refrigerators, restaurant equipment, wine coolers, beer kegs, soda machines, drinking fountains, etc.

50lb cylinders contain 20lb of R290

Sold in 8 oz cans, 12lb cylinders, and 20lb cylinders

Proud to be a family owned business with over 22 years of experience! The oldest hydrocarbon refrigerant manufacturer in North America.

This product is flammable and you must use caution when installing this product.
Customers Also Bought: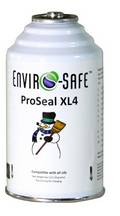 Designed to repair minor leaks in the evaporator, condenser, connecting fittings and metal lines. Do NOT use in Ammonia systems or 410a systems!

Enviro-Safe Dye Inject is the first Dye in a direct inject product. Easy to install.