Air Enhancer Inject
AC Boosters & Acid Eliminators, Injects, AC Boosters & Acid Eliminators, AC Boosters & Acid Eliminators, R12: AC Booster & Acid Eliminator

SDS

Enviro-Safe Air Enhancer Inject (348 KB, PDF)

Other Documentation
Air Enhancer Flyer (1334 KB, PDF)
Inject Product Line (1967 KB, PDF)

Enviro-Safe ProSeal XL4 is one of our most requested products. We have expanded our Inject line and are thrilled to announce Enviro-Safe Air Enhancer Inject!
Enviro-Safe Air Enhancer Inject is a small, concentrated, easy injection tool invented by our Vice President, Randy Price.
Eliminate the tedius, and time consuming process of "pumping down the unit".
Simply Connect and Inject.
Enviro-Safe Air Enhancer is an air conditioning performance booster specially formulated treatment designed to enhance cooling properties of new and old air conditioning and refrigeration systems by reducing mechanical friction up to 1500%.

Air Enhancer contains a highly polar molecule that works synergistically with compressor oil to improve the performance of air conditioning and refrigeration systems by increasing heat transfer in the condenser and evaporator coils. The polarized molecule bonds to the metal inside system by removing the insulated buildup of oil and forming a conductive layer to improve heat transfer.
Enviro-Safe's Air Enhancer Inject
Energy Savings

Concentrated

Compatible with all refrigerant, except ammonia

Compatible with all oils

No need to pump down R410, or other units

Large equipment, bulky tools, injection hoses are a thing of the past
For Use In:
heat pumps

split systems & mini split units

packaged units

microchannel coils

This product may be used in ALL R12, R134a, R22, and R502 Systems.
Enviro-Safe Air Enhancer Inject is currently available described below, and also available in Bulk:
Air Enhance Inject Single Unit # 2000 AI Up to 5 Ton Unit

Air Enhance Inject (boxed quanitites) #2000 AI BQ Up to 5 Ton Unit

Air Enhance Inject (non-boxed quanitites) is packaged in mylar packing #2000 AI NBQ Up to 5 Ton Unit

Air Enhance Inject (contractors pack of 3) is packaged in mylar packing and will include instructions. #2000 AI CP3
Step 1: Turn the a/c system on, and verify the unit is running. Connect Air Enhancer Inject to the low-side service port of the system. (This is generally the large line.)
Step 2: Connect the manifold refrigerant hose to the refrigerant supply tank. Verify the manifold's high & low side valves on the manifold are closed before proceeding. Purge the air from the low side.
Step 3: Open low side valve, watch for the tube to clear. (This will ONLY take a few seconds!) Turn off low side manifold valve as soon as the tube is clear. Turn off refrigerant gas. Verify the system is charged to manufacturer's specifications. Disconnect low-side hose from Air Enhancer Inject. Install service port cap. Run the a/c unit at least one hour after installing Air Enhancer Inject.
Note: Do Not use – Enviro-Safe Air Enhancer Inject in any manner it was not designed! Read and understand the product's label and Safety Data Sheet (SDS) for precautionary and first aid information is listed under the documents tab.
Customers Also Bought: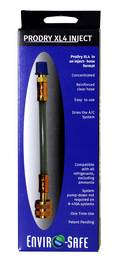 Enviro-Safe ProDry XL4 Inject is the very first A/C Dehydration Treatment in a direct inject product! For more information on this product, click the product title above.