Pro Dry XL4 Can #2105A
AC Boosters & Acid Eliminators
SDS

Enviro-Safe ProDry XL4 SDS (389 KB, PDF)

Other Documentation
*Ideal to use in recharging an R22 Home A/C system.
Available in can, or easy to use direct Inject product (vacuum sealed for freshness).
Enviro-Safe recommends the use of Enviro-Safe Pro Seal XL4 after using Enviro-Safe ProDry XL4 product.
Removes moisture to protect from system failure due to corrosion since moisture robs a system of cooling capacity

Prevents Corrosion

Treats 1 1/2 - 5 ton units

Use with Pro-Seal XL4 to protect sealants from reacting in system.
Should be used on any home A/C system that has leaked below 15 psi (running or not running) OR If the system has ever leaked in the past below 15 psi. If you do not wish to use Pro Dry XL4, the system must be vacuumed prior to installing Pro Seal XL4.
*When put into an A/C system that has moisture or air, Pro Dry XL4 mixes with the moisture and air in system forming a synthetic oil which then mixes with the oil in the system.
At this time, we do not ship this product to Canada or any overseas country due to extremely large customs fees. Due to the cost of shipping, small quantities of this product cannot be shipped to Alaska, Hawaii, Canada, or any overseas country. However, we will ship this product in large quantities, please contact Enviro-Safe at 1-309-346-1110.
Customers Also Bought: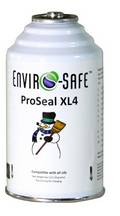 Designed to repair minor leaks in the evaporator, condenser, connecting fittings and metal lines. Do NOT use in Ammonia systems!
EPA Approved for use in new food refrigerators and freezers (stand-alone units only!)
Related FAQS