Oil Charge 8oz Can for R22, R12, R134a #2025A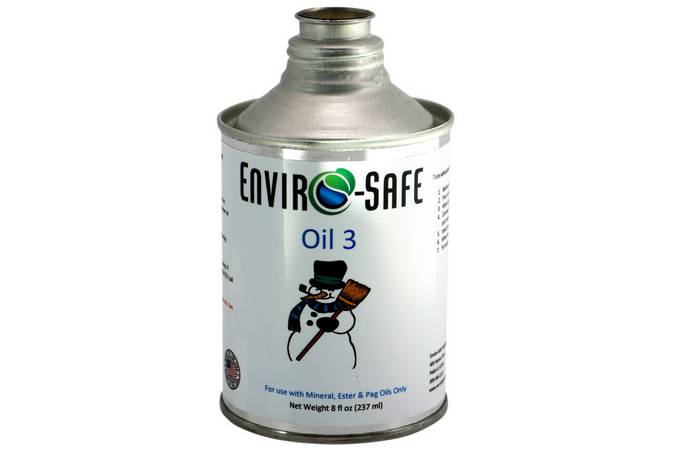 SDS

Enviro-Safe Oil Charge VS & Concentrate (421 KB, PDF)

A blend of selected oils that have been formulated to provide the extra oil needed when an air conditioning unit loses the oil charge due to leaks or malfunctions in the system. Compatible with mineral, ester or pag oils.

Check to see if you need more oil in your system - oil checkers available on our website under A/C Tools and then "Tools". They are part #: 5025a and 5030a. The Search button will help you find these as well.

---
Enviro-Safe Oil comes in 3 ounce aerosol, 8 ounce concentrate, and 2 ounce vacuum sealed cans.
Oil Charge 3 VS is a vacuum sealed can that is perfect for the single use and may be used in most a/c systems such as R12, R134a, R22, and R502.

The 8 ounce concentrate is packed in a convenient size container for the professional a/c technician. Install with a universal dye/oil injector tool.

For Vacuum Seal product--must be used in non-back flow device hose (should be able to blow through each end of hose). We recommend the R12/22 charging hose available on our website under A/C Tools then hoses. #3345
---
For R12, R22, R410a, use Top Tap #5005
For 134 Manifold set, use Tap #5000
For the 8 oz. product--use in conjunction with the injector tool #5055, 5060, 5130, 5065 (found under A/C Tools then "Tools") You can also use search button found at the top of the page.
---
At this time, we do not ship this product to Canada or any overseas country due to extremely large customs fees. Due to the cost of shipping, small quantities of this product cannot be shipped to Alaska, Hawaii, Canada, or any overseas country. However, we will ship this product in large quantities, please contact Enviro-Safe at 1-309-346-1110.
Customers Also Bought:
An easy to use item for detection of A/C oil levels and harmful acids in the oil A/C system. For more information on this product, click the product title above.
Remember 20lbs of Enviro-Safe Industrial equals 54.6lbs of R134a!! Use less refrigerant, get lower high side pressure, colder temps and use less horsepower to get the colder air!
*Haz/Mat fee not included.

Enviro-Safe Refrigerant with Dye is fully compatible with mineral-pag-ester oils and is specifically designed to assist in locating air conditioning leaks.
Related FAQS