SAVE 15% ON $100*
Enter code SAVE15 at checkout
*not including shipping
Engine Block Sealant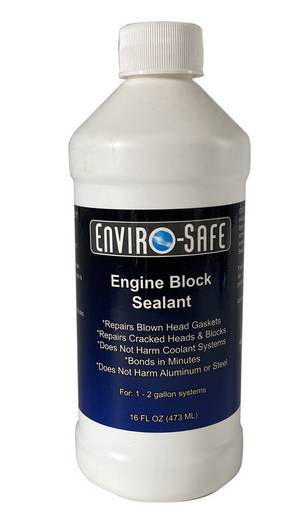 Enviro-Safe Engine Block Sealant will repair most blown engine head gaskets and minor cracks in the engine block when used according to directions. Engine Block Sealant does not harm coolant systems or aluminum or steel engine parts and it will stop leaks in minutes. This 32 oz container is enough for 1 automobile or small truck diesel engine.
For best results, add to radiator after mixing with anti-freeze.

For larger systems, please contact Enviro-Safe Technical Support at:
1- 888-913-1110.
Customers Also Bought:
Available in 3/4", 3/8", and 7/8".
EPA Approved for use in new food refrigerators and freezers (stand-alone units only!)
*Haz/Mat fee not included.

A blend of selected oils that have been formulated to provide the extra oil needed when an air conditioning unit loses the oil charge due to leaks or malfunctions in the system.