Save 15% on orders of $100 or more!*
Enter code SAVE15 at checkout
*not including shipping
Engine Block Sealant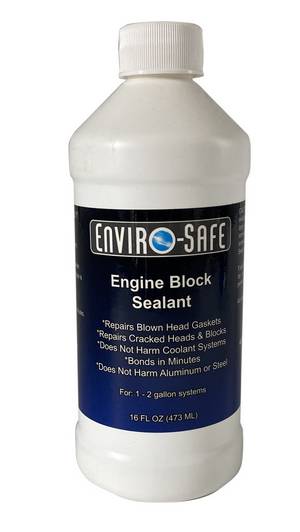 MSDS

MSDS Engine Block Sealant (193 KB, PDF)

Enviro-Safe Engine Block Sealant will repair most blown engine head gaskets and minor cracks in the engine block when used according to directions. Engine Block Sealant does not harm coolant systems or aluminum or steel engine parts and it will stop leaks in minutes. This 32 oz container is enough for 1 automobile or small truck diesel engine.
For best results, add to radiator after mixing with anti-freeze.

For larger systems, please contact Enviro-Safe Technical Support at:
1- 888-913-1110.
Customers Also Bought:

#3525 Can be used in leak detection of dye. LED bulb life is up to 100,000 hours. Batteries last 7x longer.
Enviro-Safe Air Enhancer is an air conditioning performance booster specially formulated treatment designed to enhance cooling properties of new and old air conditioning and refrigeration systems.

#3010 3/16" Standard 134a adapter to convert from R12 to 134a high pressure side. This valve does not contain a Schrader valve as it is not needed for our conversion adapter to work.