BPV-31 Bullet Piercing Tapping Valve #3080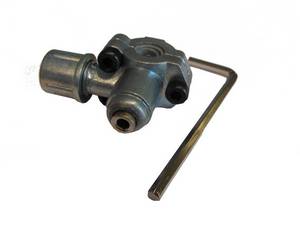 Allows you to charge a system that does not have an access port
Fits 1/4", 5/16", 3/8" OD Tube
Enviro-Safe Piercing Valve Instructions (BVP-21 and 31)
1. Turn the piercing pin COUNTER-CLOCKWISE with the supplied Allen wrench so that the pin will not pierce the tubing. The piercing pin should not be raised above the top of the valve.
2. Remove the three bolts with the Allen wrench.
3. Put the two halves of the valve around the tubing. Use the insterts only if needed to adjust the valve to the proper tubing size. If the tubing is 3/8" (BVP-31) or 5/8"(BVP-21), no insert is needed.
4. Insert the three bolts and tighten them down evenly with the Allen wrench.
5. Turn the piercing pin CLOCKWISE to pierce the tubing.
6. The valve is now ready to use.
7. Replace the cap on the piercing valve.
Failure to re-tighten piercing pin down to the shut-off position before removing charging hose will result in the loss of all refrigerant!
Customers Also Bought:

#3325 Compatible with most refrigerants. Has 1/4" ends -- one end with depressor. Available in Red, Yellow, & Blue 36" or 60".

Enviro-Safe™ Refrigerant with Dye.

#3310 R12 or 22 1/4" flare x 1/2" ACME Made for use with Pittstop Top Tap with Blue Handle