R134a Replacement Refrigerant with Dye Can Equivalent to 16 oz 134a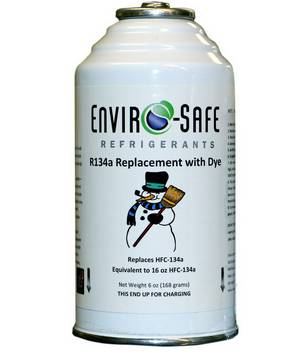 SDS

Enviro-Safe Refrigerant w/ Dye 5 oz (367 KB, PDF)


Enviro-Safe Refrigerant w/ Dye 6 oz (367 KB, PDF)

Other Documentation
Refrigerant w/Dye Pressure Temperature Chart (200 KB, PDF)
Equivalent Replacement Chart (121 KB, PDF)

Equivalent Weight Installation Chart
For best results, DO NOT pull a vacuum on A/C system.
If you plan to pull a vacuum or are charging a larger system or dual air system such as on a van, suburban, or SUV, use Enviro-Safe Industrial 134a Replacement refrigerant.
*Note: all products in this kit are not usually used at one time to charge a single vehicle.
Enviro-Safe 134a Replacement with Dye can be used in all R134a applications, including pre-1994 automobiles that have complied with the USEPA Snap Law. Bring your A/C performance back to the original cold air!
---
QUANTITY DISCOUNTS AVAILABLE!
Enviro-Safe™ Refrigerant with Dye is made of only the Most Pure, Quality, Refined ingredients available today.

Because Enviro-Safe™ Refrigerant with Dye is so efficient, you use UP TO 60% LESS!
We are sure you are aware of other companies that market hydrocarbons that contain the "rotten egg or sulfur odor". This smell comes from the sulfur in a blend that is unrefined or from an additive called 'mercaptin' which some companies add for the odor itself. Mercaptin is made from sulfur. When sulfur is introduced to moisture, it becomes an acid.

Enviro-Safe™ Refrigerant with Dye is different, because it is highly refined! Enviro-Safe does not contain the "rotten egg, sulfur, propane" odor.

Enviro-Safe™ Refrigerant with Dye is a non-ozone depleting product and is completely safe for the environment.

The products we market have been perfected over the years, and are now highly refined and computer blended to within 1/4 of 1% by a major American petrochemical supplier. This means our products are consistent each and every time our customers use them!

Enviro-Safe carries a guarantee that Enviro-Safe™ Refrigerant will not harm air conditioning, compressors or other related mechanical equipment when used in accordance with Enviro-Safe directions.
Flammable to an open flame or spark, proceed with caution if used in systems designed for non-flammable refrigerants.
In most cases, Enviro-Safe™ Refrigerant with Dye is capable of delivering energy savings and will result in a considerable reduction in operating costs!

There are many advantages to using Enviro-Safe™ Refrigerant. It allows your system to operate with less head pressure and is extremely efficient! We have recorded energy savings of up to 40%.
The temperature pressure chart represents the temperature of the product when inside the system.

Enviro-Safe™ Refrigerant also meets international standards such as—ISO 5149, BS 4434-1995, AS/NZS 1677 and ASHRAE 5149.

Enviro-Safe™ Refrigerant is available in 6 ounce cans, 30lb, 50lb, and 1000lb cylinders.
Enviro-Safe product cannot be shipped to Alaska, Hawaii, Canada or any other overseas country except in pallet quantities.
Please refer to the manufacturer's specification prior to recharging the a/c system for proper pressures.
Follow the Directions for Use on the side of the can.
DO NOT overfill the system.
DO NOT exceed 60 psi on low pressure port. The low pressure port is generally the larger diameter line from compressor.
Flammable to an open flame or spark, proceed with caution if used in systems designed for non-flammable refrigerants.
DO NOT smoke or use spark, or flame when using any refrigerant, refrigerant support product, other flammable products when servicing air conditioning equipment.
The Temperature Pressure Chart is specific to the temperature of refrigerant when inside of the a/c system. These PSIG pressures are not the operating pressure. The Temperature Pressure Chart displays the readings to charge on manifold gauge, to your a/c systems to refrigerant.
Customers Also Bought:

Finally, a way to minimize the costly repairs to your auto air conditioner.

A blend of selected oils that have been formulated to provide the extra oil needed when an air conditioning unit loses the oil charge due to leaks or malfunctions in the system.
Works great for any system that requires R134a refrigerant, including dual air systems like vans & suburbans! Can be used in smaller vehicles too for super performance!
*Haz/Mat fee not included.
Related FAQS